Online book : Job interview Questions and Answers
Applying for a job can be a stressful and frustrating experience, especially for someone who has never done it before. Considering that you are competing for the position with lot of other applicants, it is imperative that you thoroughly prepare for the job interview, in order to stand a good chance of getting hired.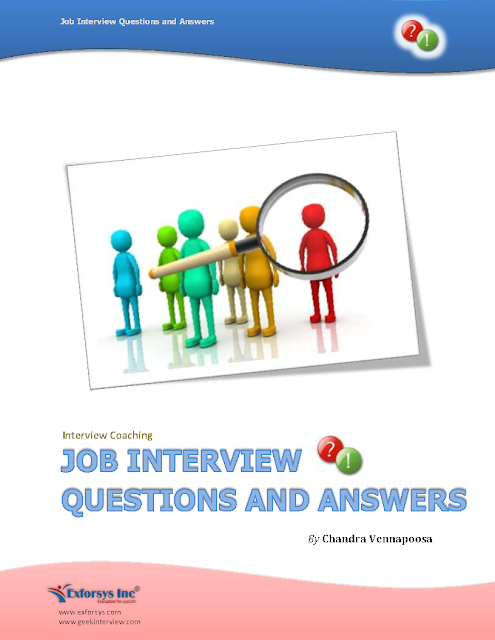 Among the things that you need to plan and prepare for would be the questions that will most likely be asked during your interview. Preparation is the key to making a good first impression, particularly for first-time applicants. Consequently, lack of preparation could lead to nervousness and inability to answer questions satisfactorily. I will help you do well during your job interview, which is why this section has been created to specifically guide you on how best to answer 31 very common interview questions.
Training Objectives:
In this self-paced training guide, Job interview Questions and Answers, you should be able to:
Determine the right things to say when answering common job interview questions.
Learn some helpful tips on how to communicate effectively during job interviews.
Know what not to say during job interviews.
Know what employers are looking for from their applicants.
Understand the reason why employers ask certain questions during interviews.
Target Audience
This guide Job interview Questions and Answers is designed to help anybody who is planning to apply for a job in any company, big or small. With the advice, tips, and guidelines provided in this section, you can better prepare for the interview and feel more confident during the question and answer session with your interviewer.
Pictures from Job interview Questions and Answers: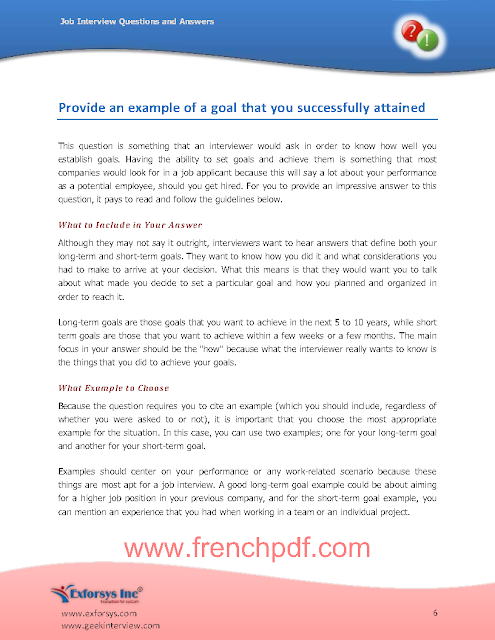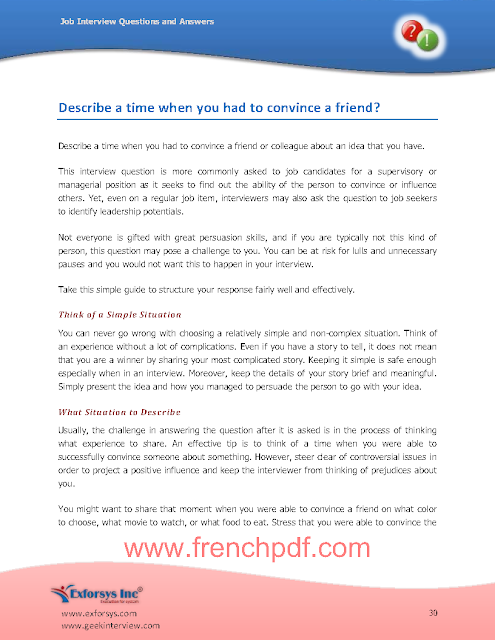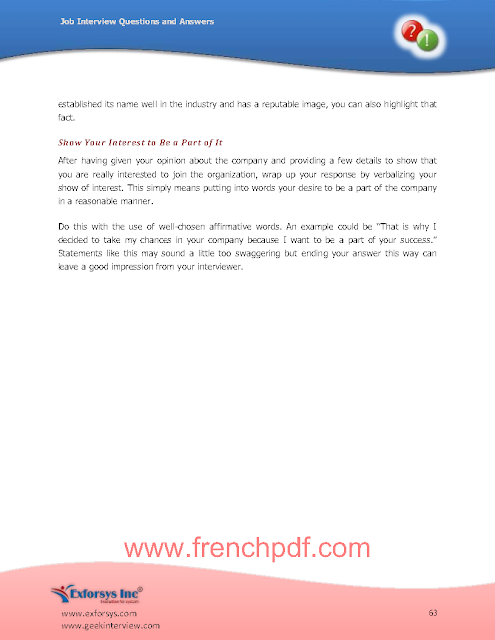 Customers who viewed Job interview Questions and Answers also viewed: Answering Tough Interview Questions for dummies in PDF for free.
About the Author of this book : Job interview Questions and Answers
Chandra Vennapoosa, B.S Arch Graduate, Managing Director – Exforsys Inc., Founder of exforsys.com and geekinterview.com. Chandra's mission is "to provide quality career coaching and interview advice for aspiring candidates". She is an avid writer and is also very passionate to help others become professional freelancers. In addition to several online trainings, she has authored the popular book "How to Become a Successful Freelancer".
This Job Interview Questions and Answers eBook contains 31 questions with expert answers. All explanation and answers are based on my personal opinion.
Check also: 100 Ways to motivate others in PDF.
Online book to read Job interview Questions and Answers
 Book Title: Job interview Questions and Answers
 Author: Chandra Vennapoosa
 Category: Business & Career.
 Genre: Job interview
 Collection: Job interview Questions and Answers
 Pages: 71 Pages
 Size: 5.2 Mo
 Edition: Exforsys Inc
 ISBN: Free
for free.